Vietnam exports various tapioca products such as fresh roots, dried leaves, tapioca starch, tapioca powder, tapioca chips. Tapioca or Cassava ranks one of the top ten major export products of Vietnam in terms of export value.
Four southern provinces (Tay Ninh, Binh Phuoc, Dong Nai, Ba Ria – Vung Tau) and another three in the Central Highlands (Gia Lai, Dak Lak, Dak Nong) are the biggest growing areas of cassava.
In 2012, with some 500 harvested hectares, Vietnam produced an output of some 9 million tons of tapioca. More than one third of the total roduction is left for food and animal feed locally, the rest is for export with China, South Korea, Taiwan being the most important Buyers.
Tapioca Starch
– Starch content: 85% min
– Moisture: 13% max
– Ash content: 0.2% max
– Whiteness: 89% min
– Fiber: 0.2% max
– pH: 5-7
– Viscosity: 750 BU min
– Packing: PP/PE bags of 50 kgs net or Jumbo bags of 850 kgs net
Tapioca Powder
– Starch content: 68% min
– Moisture: 13% max
– Foreign matter: 2% max
– Fiber: 3% max
– pH: 5-7
– Packing: PP bags of 50 kgs net or Jumbo bags of 850 kgs net
– Starch content: 68% min
– Moisture: 15% max
– Fiber: 4% max
– Foreign matter (sand, silica…): 3% max
– Packing: PP bags of around 40 kgs net or in bulk
Tapioca Residue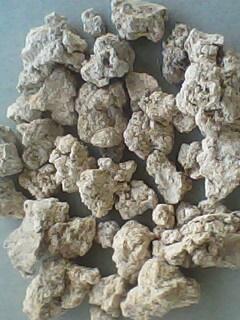 – Starch: 47 – 50%
– Moisture: 14% max
– Fiber: 15% max
– Foreign matter: 5% max
– Packing: 50kgs in PP bag or 850kgs in jumbo bag or at customers' requirement